Donate Now
We heavily rely on public donations to carry out our work and to fund new projects. Please donate today to help support us by sending a cheque, postal order or CAF gift to the following address:
The Samantha Jones Trust, 43 Grains Road, Delph, Saddleworth,  W.Yorks, OL3 5DS.
Gift Aid:
If you pay tax, 'Gift Aid' is a scheme by which you can donate a sum of money to The Samantha Jones Trust and we can reclaim basic rate tax on your gift from the Inland Revenue to increase the value of your gift. For example, if you gave us £10 using 'Gift Aid' the gift is worth £12.82 to 'The Samantha Jones Trust'.
You can make payments by cash, cheque, postal order, direct debit or standing order. Subject to a few rules, you can give any amount, large or small, regular or one-off, and we can reclaim the tax.

You must
pay at least as much tax as we will reclaim on your gifts in the tax year in which you make them (tax credits on dividend income will count towards the tax paid). The tax year runs from 6 April in one year to 5 April in the next. 
make a declaration to us that you want your gift to be treated as a 'Gift Aid' donation
not receive excessive benefits in return for your gift.
If you have unwanted goods you wish to donate then please get in touch for us to arrange collection.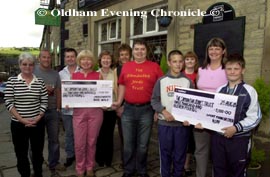 Where do your donations go?
We use all money raised to further our charitable aims of:-
"THE RELIEF OF SICKNESS AND DISTRESS OF CHILDREN SUFFERING FROM LEUKAEMIA AND THEIR FAMILIES BY THE PROVISION OF SUPPORT, FINANCIAL AND MATERIAL ASSISTANCE"
Although we cannot disclose exact details, we have and continue to provide equipment to help make a child's life easier, providing financial support to enable parents to spend as much time as possible with their loved ones. We also help with transport costs, trips, special treats and holidays to help families create positive memories of the time they spendgoing through leukaemia treatment.
No request is too small. All requests are assessed by our board of trustees.